Slieve League
We've had a couple nice days recently so we ventured out for some hikes. On Tuesday we wandered to Slieve League on the North Western coast of Ireland and on Wednesday to Slieve Bearnagh in the North East. In both cases we started on an adventure, not where we expected to be. Signage and/or google maps is sometimes not pointing in the right direction or not as evident as one would hope to stay on the path you expect to be.
When we left Tuesday, we entered Slieve League into the GPS and it directed us to a parking lot just before the road started to turn into something that could cost us our deposit on the rental car. We were expecting cliff edge coastal views but rationalized that we maybe had to earn the view with a bit of a hike. We started on our way and bumped into some sheep, and one guy who told us we had a couple hours of hiking ahead of us. Shortly after wind and rain came. We walked through it and, about 30 minutes into our hike, met our self proclaimed "guardian angel", Jerry.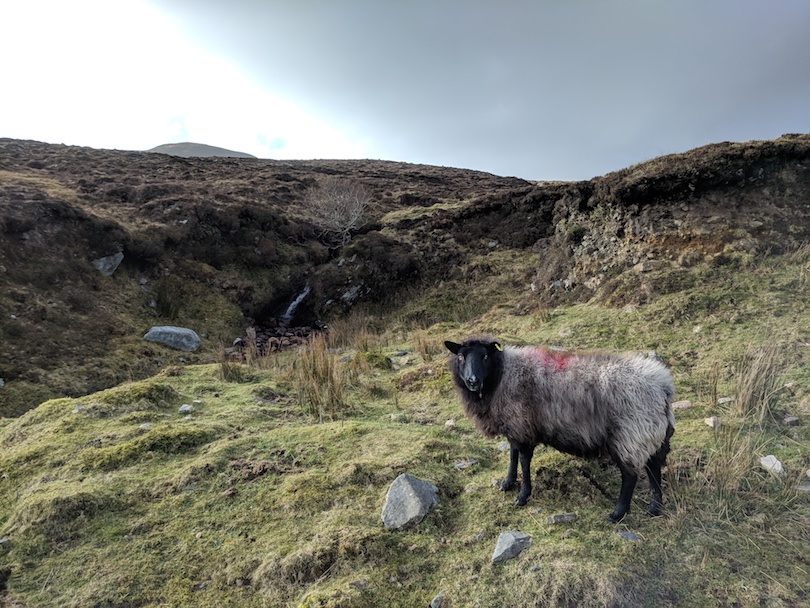 We learned a bit about Jerry's 74 years in the area, the salmon population, and that we were on the path of St. Columbkille rather than the cliff view path. Jerry assured us though, that even though we weren't where we expected to be, we were on the right path as it was where we were and we met him. He directed us to cliff view side of Slieve League and we got a good taste of that area.
Slieve Bearnagh
Wednesday morning began much the same. We entered Slieve Bearnagh into Google Maps and were directed to a parking area near the path. Unfortunately there weren't any signs pointing to Slieve Bearnagh but there was a little hiker image with an arrow. We followed that sign and found ourselves at a split in the road with no signs other than one that said the landowner was within their rights to shoot your dog if they felt it was threatening their sheep. We first tried the left path which led us to a house with someone outside who directed us the other way. We followed the path to the right which led us to some farm equipment. We finally decided to hop the gate where the sign about the dogs was posted. In the beginning the path was clear but that quickly ended and we were clearly just in the middle of a very soggy pasture. But, we could see Slieve Bearnagh in the distance (which is what Rachel is pointing at in the picture at the top of the page) and behind us was quite a view as well.


After crossing through one pature, over another gate and through another pasture we found the path to Slieve Bearnagh. We have now found multiple ways not to get there that I think next time we have a chance. Next stop is Giant's Causeway but once we get some more decent weather, we're coming for you Slieve Bearnagh!